Grill Mentor is reader-supported. We may earn a commission when you buy through links on our site.
Is the Traeger Pro 575 worth the hype? I purchased it and put it to the test to find out.
In this hands-on review, I share my personal experience, test results, and overall thoughts as a BBQ enthusiast with 10+ years of experience using pellet grills.
Quick Answer: If budget isn't a concern for you, the Traeger Pro 575 is a solid choice. It's well-built, generates plenty of smoke, and, unlike cheaper pellet grills, inconsistent heat isn't an issue with this Traeger. There were hardly any fluctuations during my temperature testing.
Quick Overview: Traeger Pro 575 Pellet Grill
The Traeger Pro 575 is the improved version (second generation) of the Traeger Pro 22. Although there are a few minor changes, the main difference is this 575 model is Wi-Fi enabled (what Traeger calls WiFIRE).
Top Pick
My Experience Assembling the Grill
Before I could put the Traeger Pro 575 to the test, I had to put it together. Here's my experience and first impressions.
Packaging, Tools, and Assembly Time
This Traeger came nicely packaged and includes everything you need to set it up, including a screwdriver, Allen key, etc.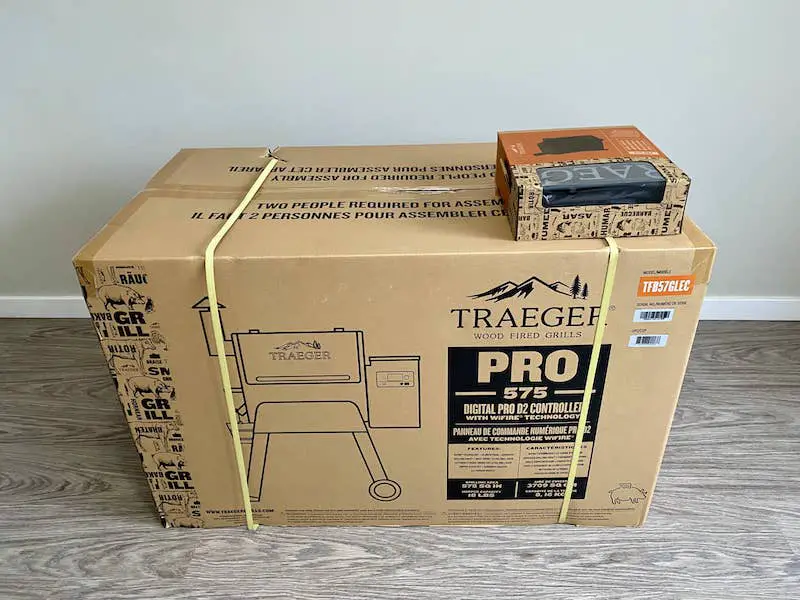 I assembled the grill myself, but you should have another person like the instruction manual says. It's challenging to lift by yourself without dropping the unit because of its size and shape.
I dropped it while putting it on its side. Thankfully, it wasn't damaged!
Assembling the grill was simple, and the instructions were clear. The cooking chamber and hopper are attached already. You just add 4 legs, 2 handles, and the smoke stack.
Having said that, it takes longer than you think. I timed myself, and it took 1 hour and 25 minutes to set up.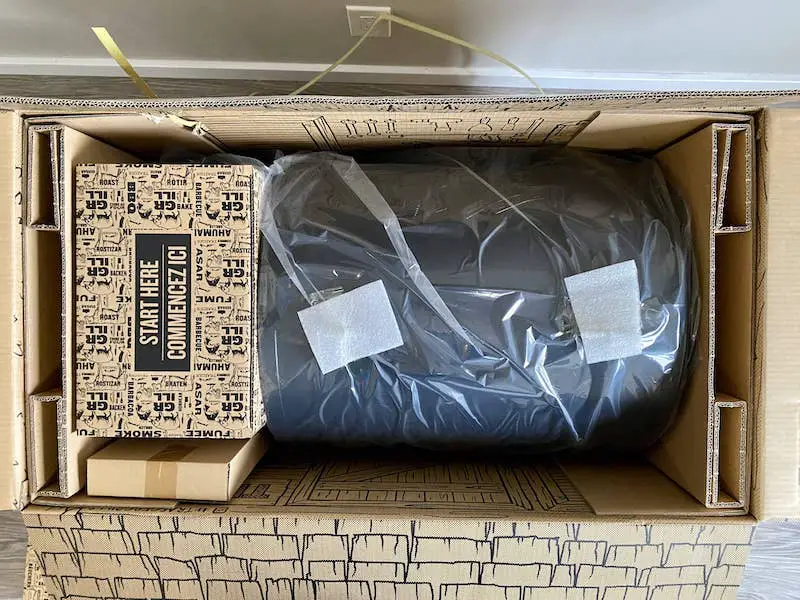 Don't throw the cardboard away just yet. There's a piece of cardboard that's intended to help stabilize the grill while you attach the legs. When you remove the main body of the grill, put it on its side and lay the cardboard underneath.
Clever packaging, Traeger.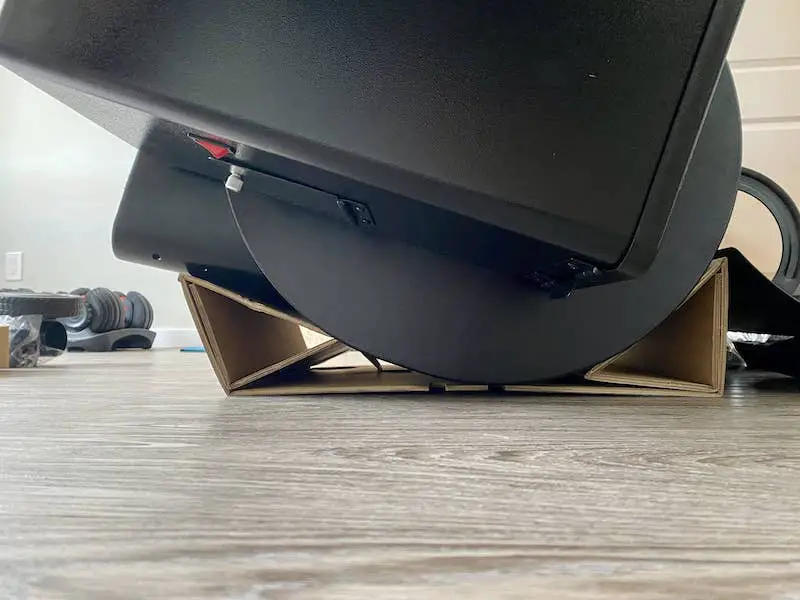 Begin attaching the 4 legs once you lay the grill's body on its side. The legs with wheels go on the side where the hopper is located. The legs without wheels go on the opposite end.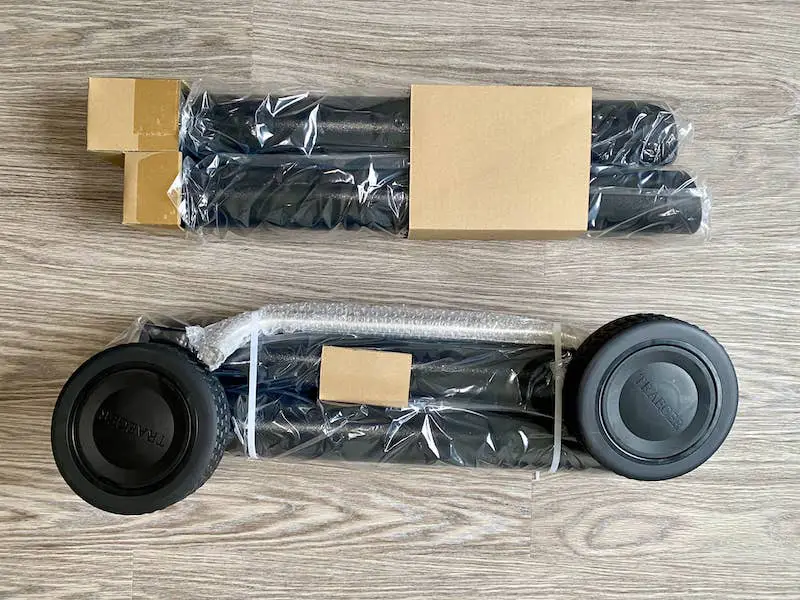 Installing the legs is simple because there are stickers to ensure you're putting the correct leg in the slot. Ensure to place both bolts in their appropriate hole before tightening one of them.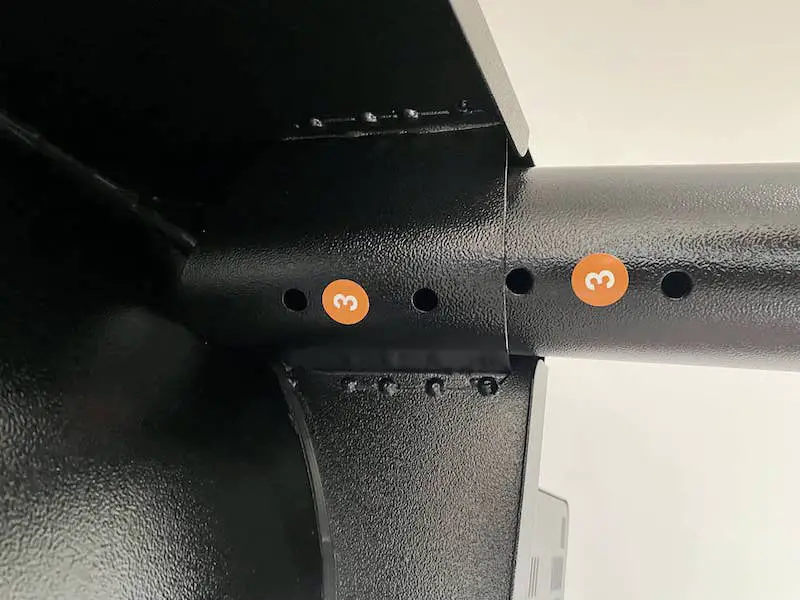 Insert the power cord into the bottom of the hopper once the legs are attached. Now, get your partner to help you lift the grill into its standing position.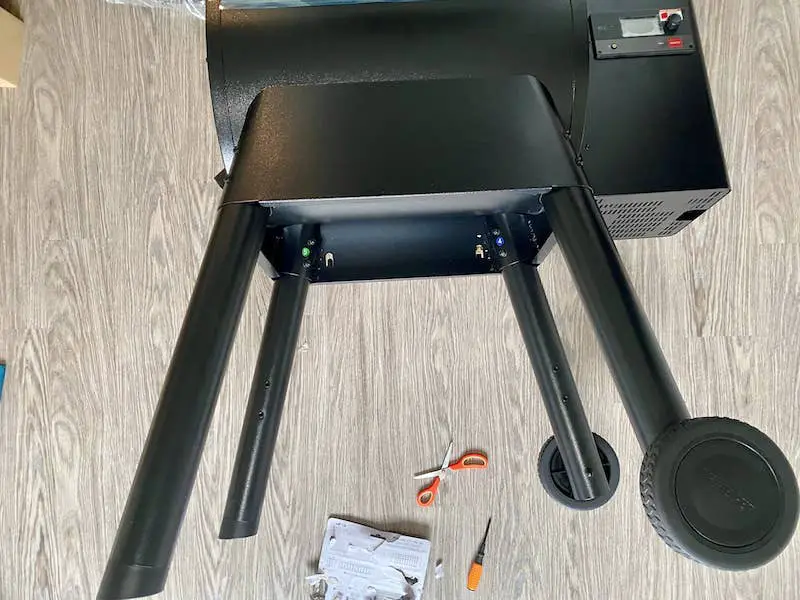 The hard work is done. Now, attach the handles, smokestack, and grill grates. It'll look like this when it's done.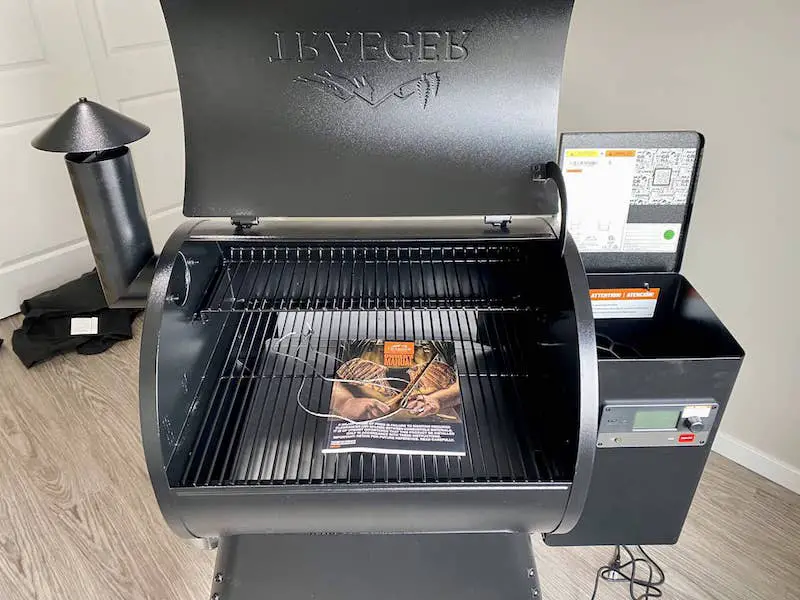 Initial Startup and Seasoning
Once you finish putting together the unit, you'll need to "season" it before you can cook food. This one-time initial firing process will burn off any manufacturing oils. It takes about 1 hour and 30 minutes.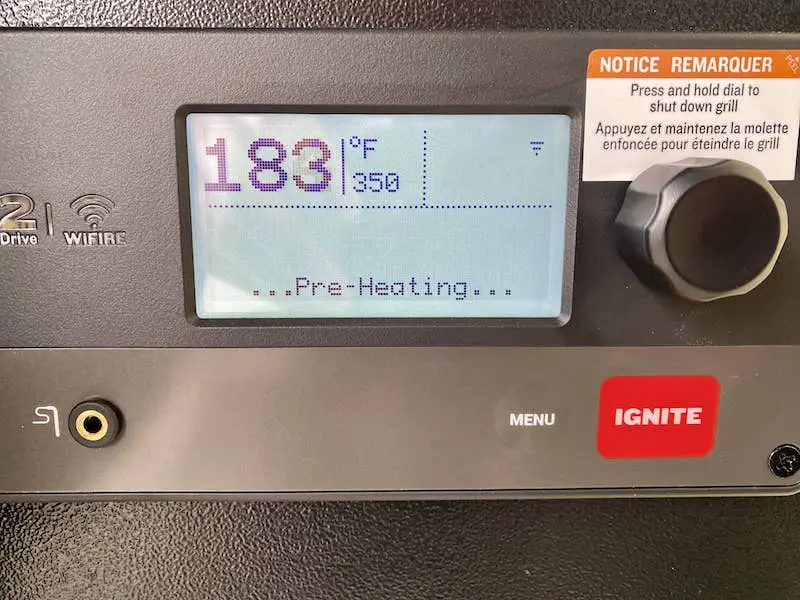 After that, it's ready to use. To put my Traeger to the test, I decided to cook baby back ribs since they're simple to make and relatively forgiving.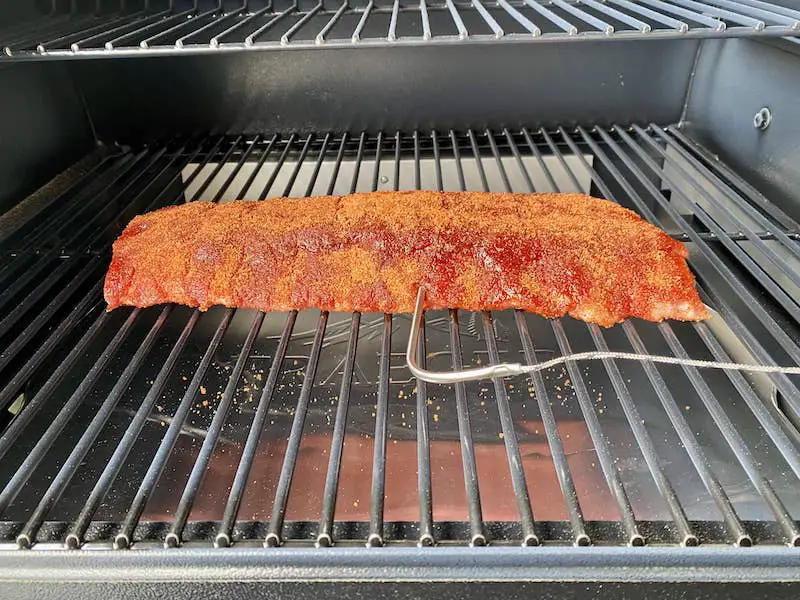 In case you're wondering how long it takes to preheat, it took 15 minutes and 42 seconds to reach 350°F. That time is standard compared to other pellet grills around this price point.
Ease of Use
One of the biggest advantages of pellet grills is their ease of use. Let's see how this one measures up.
Control Panel
The LCD screen shows the cooking temperature, meat probe temperature, and error codes. It also lets you know what phase the grill is in (i.e., igniting, preheating, shutdown, etc.).
The screen is easy to read, and I found all the settings I was looking for quickly.
If the unit encounters any issues, an error code will appear on the screen. Although, the error codes are just that—codes.
It would probably be easier to understand if the screen displayed an error message such as "probe fail" rather than "Er2." As a result, you'll need to refer to the user's manual if you encounter an error.
Non-Technical Features
Aside from the technical aspects of the grill, it's also easy to figure out most features without referring to the owner's manual.
For example, the removable parts are easy to take out and intuitive to put back in. I didn't encounter any scenarios where I thought, "Why the heck would they make it like this?"
Startup and Shutdown Process
The startup cooking process is simple: turn on the grill and select your desired temperature.
The shutdown process is straightforward, too. You just press and hold the dial on the controller for 3 seconds, and the shutdown process initiates. It takes 15 minutes to complete.
If you're wondering what the shutdown process is, it's the Traeger burning off excess pellets in the firepot.
Traeger App for Smartphone
You can download the Traeger app for added convenience. Not going to lie. As a tech guy, this was one of the aspects that I was most excited about. Here's how it works. 
App Download and Connection Process
Simply download the app, and you'll get on-screen instructions to connect your grill with Wi-Fi (or, as Traeger calls it, WiFIRE technology).
This process is simple, takes 2 minutes, and I didn't encounter any issues or bugs. Note that you'll need your Wi-Fi password handy because the app needs it to connect the grill.
App Features and Functionality
You can manage nearly everything from the app. For example, adjust and monitor the cooking temperature, set timers, and create alerts when your food reaches your desired internal temperature.
With the "Make Now" feature, you can select a recipe from the Traeger app, and then the cook cycle will get sent to your grill. No need to adjust anything. Your grill will follow the recipe!
Temperature Control
Pellet grills work by providing indirect heat. So, the temperature settings are crucial. Let's take a look.
Temperature Settings
The Traeger Pro 575 has a temperature range from 165°F to 500°F. You can adjust the temperature in 5-degree increments from the grill's control panel or the app.
You can view the real-time internal temperature of your food with a leave-in meat thermometer that comes with this grill. There's also a temperature probe so you can monitor the cooking temperature.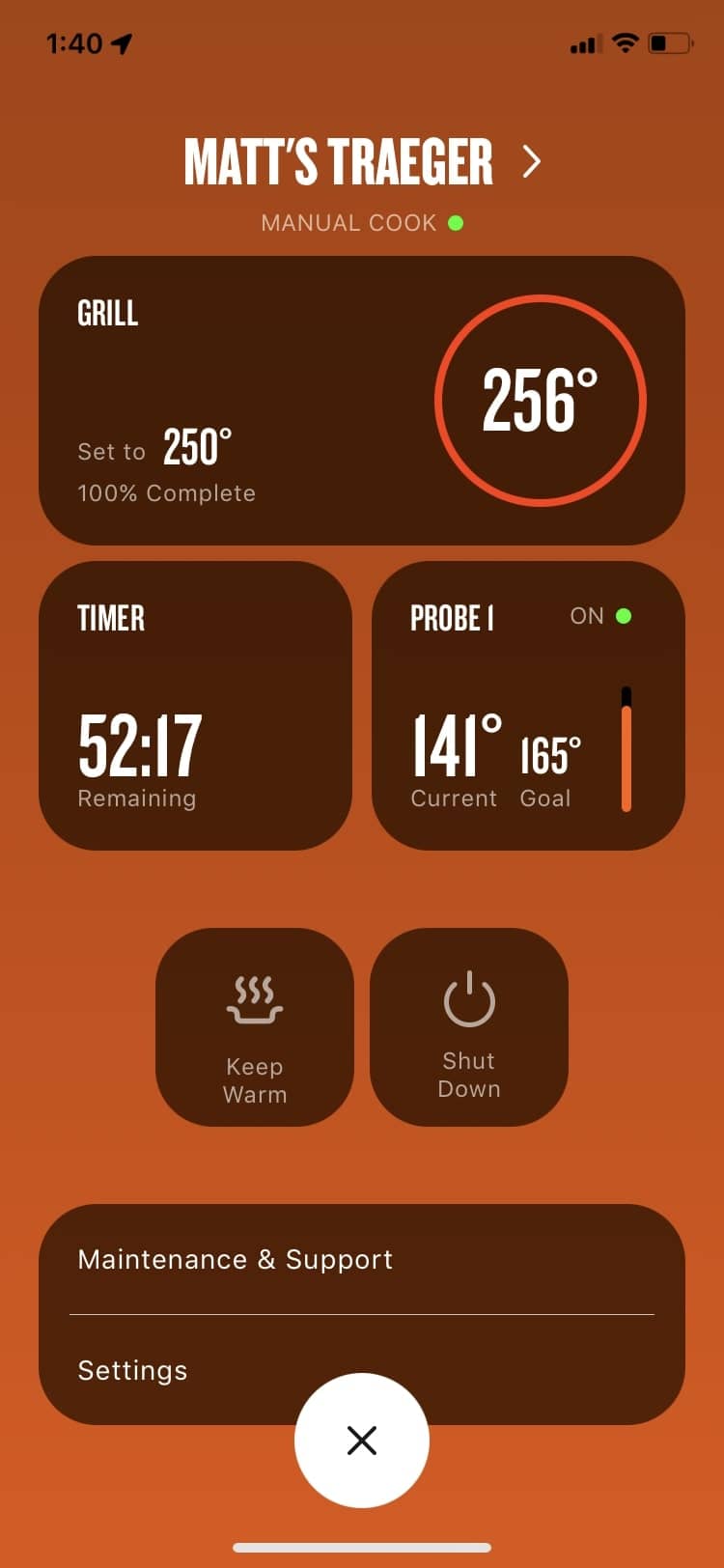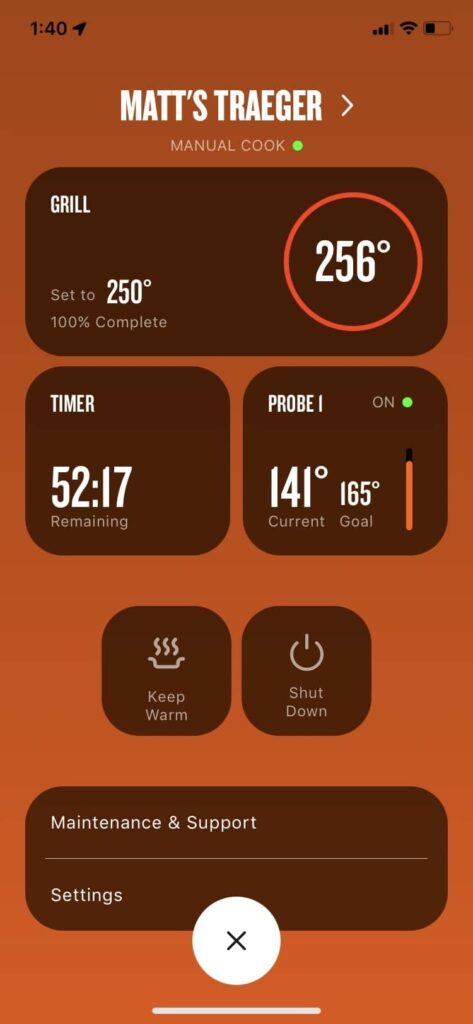 When your food is done cooking, and you're allowing the sauce to glaze on, or you want to keep your food warm, you can select "keep warm" on the app, and the temperature will drop to the lowest setting.
Precision and Consistency
Consistent temperature is crucial for low and slow cooking. Of course, all pellet grills will have some variance (within 25°F is normal).
I intentionally looked for variance, and I didn't observe anything significant. It rarely deviated more than 15°F. That's much more consistent than most of the pellet grills I've tested.
All pellet grills will have some variance (within 25°F is normal). The Traeger stayed within that.
Explanation: Temperature variance in a pellet grill is primarily caused by an ineffective pellet auger system or low-quality pellets. Neither is a concern if you use Traeger wood pellets in this unit.
As I mentioned before, it was cold outside (39°F) when I was testing this smoker. So when I opened the lid, the temperature dropped massively.
The temperature in the cooking space decreased to 163°F, and it took 4 minutes and 28 seconds to return to 250°F.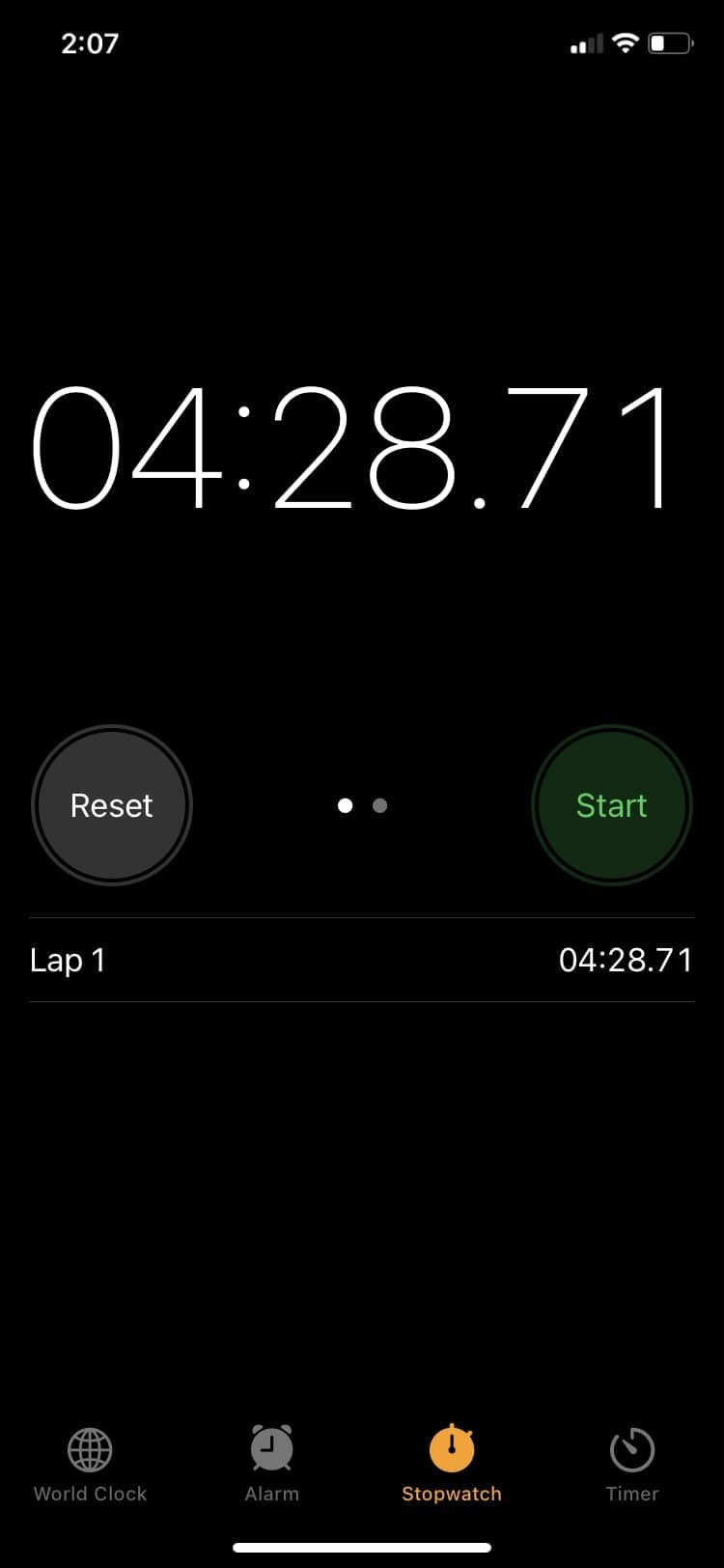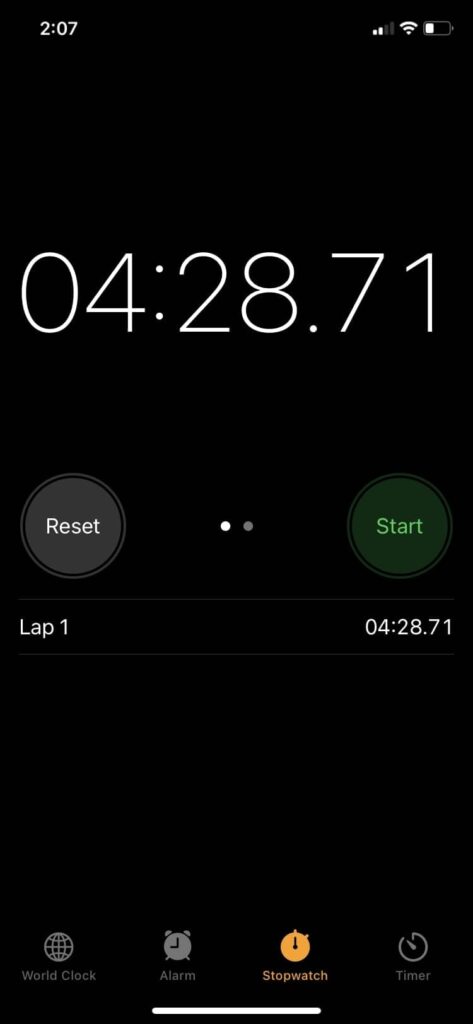 Build Quality
Traeger products are often a bit more expensive than their competitors. One of the reasons for that is their quality. Here's my experience with this specific model.
Construction Integrity
This pellet grill is built with thick-gauge stainless steel, sturdy legs, and quality components that ensure durability and longevity.
I assembled this grill inside and moved it outside afterward. Typically, you'll notice weaknesses when moving or relocating the unit.
Usually, something will feel flimsy, or you'll get that feeling of, "Oh, I shouldn't lift that part of the grill. That could break it." I didn't get that impression with this Traeger.
It felt sturdy whether I lifted it from the handles, hopper, or base. Maybe that's just my incredible assembly job. Who knows.
Weatherproofing
Great news. You can enjoy smoke flavor all year round, even if you live in a state where it's cold and snowy in the winter.
In that case, I recommend purchasing an insulation blanket (sold separately by Traeger).
This grill can handle cold temperatures but not rain (like all pellet grills). You should ALWAYS put a cover on whenever it's not in use.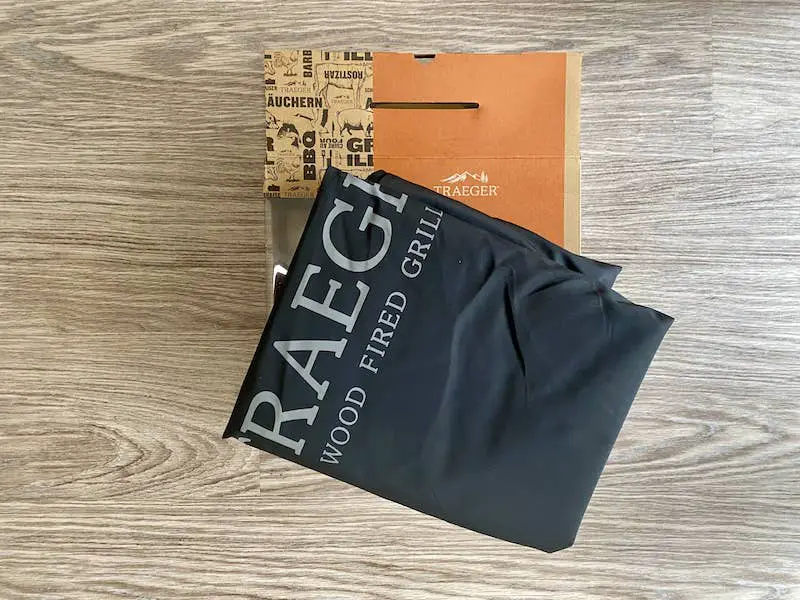 Capacity and Size
Size matters when it comes to choosing a pellet grill. I always try to look for adequate cooking space but not wasted space proportionally.
Cooking Area
You'll get 575 square inches of cooking space with this model. That's enough to fit 24 burgers, 5 racks of ribs, or 4 chickens. I found it to be a perfect amount of space for what I need.
If you need more space, I suggest checking out the Traeger Pro 780. It has 780 square inches of cooking space.
You've probably caught onto how Traeger comes up with product names for this line.
In my opinion, the grill grate surface area is proportional to the size of the grill, unlike some products that have wasted space.
I'm not an engineer, but from what I can see, they didn't waste any space with this design.
Pellet Hopper Capacity
The 18-pound pellet hopper capacity allows for extended cooking sessions without the need for frequent refilling.
For reference, I filled the hopper almost to the top with wood pellets and used about half in a 6-hour session (again, at 250°F).
If you begin to run low on pellets mid-cook, you'll get a push notification if you're using the app and a message on the grill's display screen.
Maintenance and Cleaning
I've had pellet grills in the past that were fantastic at smoking but, because of their design, were challenging to clean. That's not the case with the Traeger Pro series.
I use a shop vacuum to remove ashes from the fire pot every after each use (unless it's a short cook). All you need to do is remove the main grill grate, drip tray, and heat deflector. Then, you can easily access the fire pot.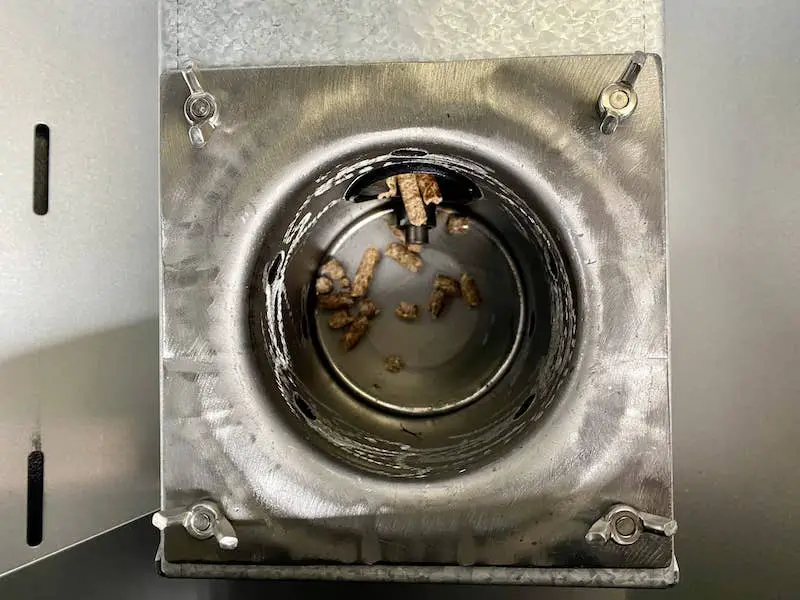 You'll also need to occasionally clean the cooking chamber, drain, and grease bucket. A paint stick works great for this as it removes grime without scratching the surface like a metal instrument would.
Regularly cleaning and maintaining your grill is crucial for increasing its lifespan. Ensure to follow Traeger's recommended guidelines.
Portability
Thanks to the two back wheels, I moved this pellet smoker from inside my house to outside with ease.
The wheels are 7 inches in diameter, not those small caster wheels (found on most barbecues) that get stuck if they encounter anything.
As a result, you can move this unit across the grass without issue. If you have another person, you can put this into the back of a truck. It sits securely as long as you strap it in.
However, once assembled, it didn't fit into my SUV because it was too large.
Accessories and Compatibility
The Traeger Pro 575 comes with the basics. If you want a cover or front shelf, you'll need to purchase those separately.
I highly recommend buying the front folding shelf. Otherwise, the grill is awkward to use. You need somewhere to set your tray when you remove it from the grate or even set your utensils down.
I wish it were included and not sold separately, as it's almost a necessity.
The front shelf is easy to install. There are 2 brackets to secure in place.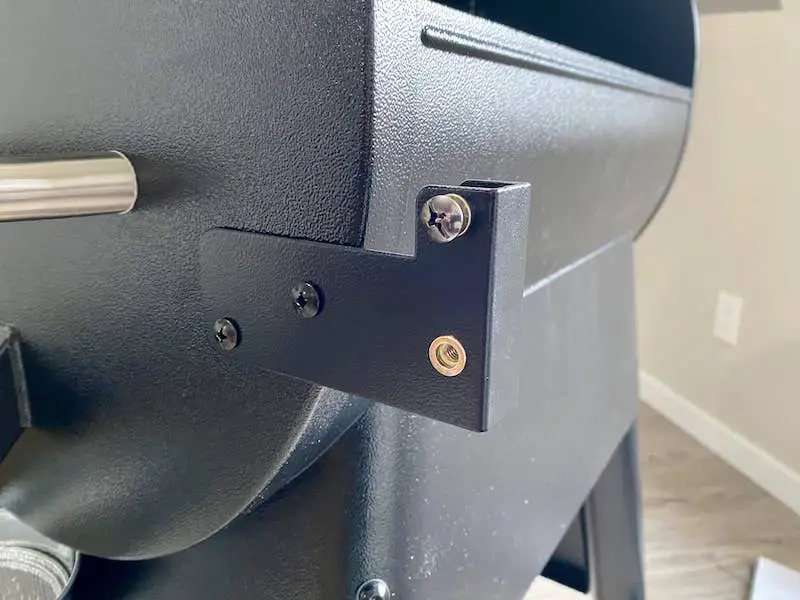 Aside from the necessities (cover and front folding tray), there are many other accessories Traeger sells that are helpful but not a requirement.
Cost and Value
The retail price of the Traeger Pro 575 might be steeper than traditional gas or charcoal grills. However, reliable pellet grills usually cost a bit more because they include more technology.
Its performance, build quality, and versatility justify the price, in my opinion.
Remember, there are ongoing costs with operating this grill. Aside from food and other cooking ingredients, there are also wood pellets (around $20 for 20 lbs).
Warranty and Support
Traeger is known for standing behind their products. I didn't call customer service to test this product specifically, but I've called them before, and they're great.
You can provide them with your grill's serial number (located inside the hopper's lid), and they can often diagnose the issue remotely.
For this specific model, Traeger has a 7-year limited warranty. This means different parts of the grill are covered up to certain times.
For example, they guarantee the body, legs, hopper cover, and grates won't rust through for 7 years, but the meat probe is only covered for 1 year.
If you need to purchase a replacement part, you can find everything on their website.
Similar Alternatives
Here are a few popular alternatives you might want to consider if you don't think this specific model is for you.
Traeger Pro 780
If you want more cooking capacity than the Traeger Pro 575, consider the Traeger Pro 780. You'd have 205 square inches of additional cooking space (i.e., you can fit 6 chickens instead of 4).
However, it's important to note that apart from the increased cooking space, the Pro 780 and Pro 575 are identical in terms of features and functionality, including the same 18-pound hopper capacity.
Camp Chef Woodwind 24
Another option with plenty of cooking space (811 square inches) is the Camp Chef Woodwind 24. Like the Treger 575, there's an app allowing you to control your grill.
The downside to this product is there's more temperature variance than the Traeger. Also, it's a bit harder to clean because of the interior design.
Weber SmokeFire EX4
The Weber SmokeFire EX4 (2nd Gen) serves as a worthy alternative to the Traeger Pro 575.
This pellet grill shares similar features, such as an app for temperature control and monitoring, a custom temperature range for versatile cooking options, and a large cooking area.
Weber has addressed most issues from the first generation in this model. There are a few drawbacks: the drain system could be improved, and the caster wheels don't move well outdoors.
Verdict: Is the Traeger Pro 575 Worth It?
The Traeger Pro 575 is a solid and reliable pellet grill for both first-timers and seasoned pitmasters alike. Its ease of use, consistent cooking performance, and quality construction all tested extremely well, especially compared to other brands. If you feel like the cooking space isn't enough, consider the Traeger Pro 780.
Top Pick
By the way, my ribs turned out great!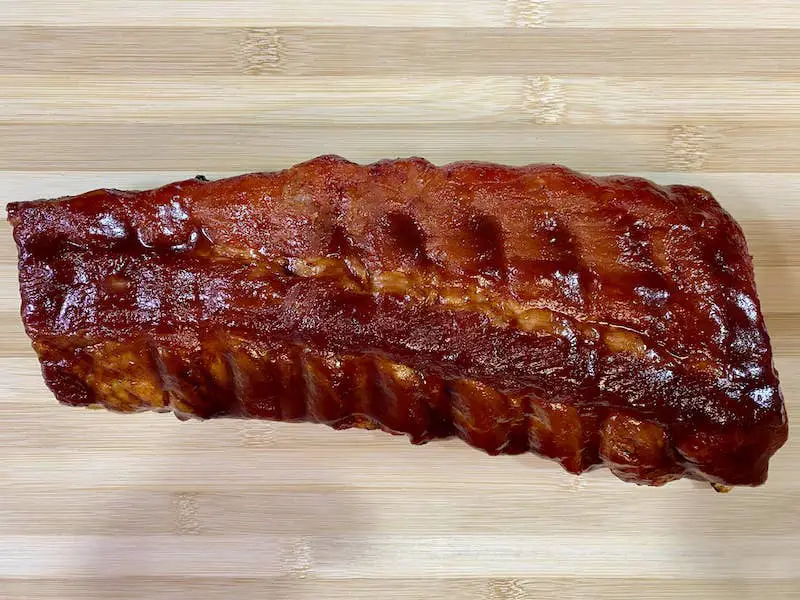 Frequently Asked Questions
I tried to cover as many questions as possible in this Traeger Pro 575 review. Still, here are a few common questions you might have.
Can a Traeger Pro 575 Fit a Brisket?
Yes, there's more than enough room to fit a brisket on the grill grate. You can fit 1 large brisket, 5 racks of ribs, 4 chickens, or 24 burgers.
What Is the Difference Between Traeger Pro 575 and 780?
The main difference between the Traeger Pro 575 and the 780 is the cooking capacity. These models are named after their cooking capacity. The Traeger Pro 575 has 575 square inches of cooking area.
Can You Smoke on a Traeger Pro 575?
Yes, you can smoke on this pellet grill. That's what it's intended for.
Can You Use a Traeger Pro 575 Like a Regular Grill?
Yes, this Traeger works as a regular grill too since there are grill grates and the temperature reaches 500°F. Meaning you can sear steaks, grill burgers, and more.
Can You Use Traeger Pro 575 Without Wi-Fi?
Yes, you can use your Traeger without Wi-Fi. You can adjust the temperature directly from the grill. However, if you want to use the Traeger app to control your grill, you must have Wi-Fi.