Grill Mentor is reader-supported. We may earn a commission when you buy through links on our site.
Matt Hollingshead
|
May 4, 2023
If you're a barbecue fanatic like me, a portable smoker is a must-have for any weekend trip. Unfortunately, finding the right one is tough since many are heavy, awkward to carry, or subpar at cooking.
In this guide, I'm sharing my top picks for the best portable smokers on the market based on the dozens of models I've tested over the years.
1. Weber Smokey Mountain Cooker
This smoker is my go-to weapon of choice when barbecuing away from home (usually camping or tailgating). Even after five years of regular use, it hasn't let me down.
Top Pick
Weber 18-inch Smokey Mountain Cooker
Weight: 39.1 lbs | Fuel: Charcoal | Dimensions: 21" L, 19" W, 41" H
The Weber Smokey Mountain is the most user-friendly charcoal smoker I've ever tried. It has a conveniently accessible fuel door, easily adjustable vents, and an impressive resilient construction that ensures hassle-free smoking.
Pros:
Durable and sturdy design

Has 2 cooking grates

Lightweight and easy to carry

Simple to operate and clean
Check Latest Price
You can choose a 14, 18, or 22-inch model. They all come with two cooking grates (the inches represent the grate's diameter). The only difference between them is the dimensions and weight.
So I recommend choosing the size based on what type of meat you cook most often. I own the 18-inch one, and I've found it's a perfect size.
FYI: As I've had my WSM for several years, the inside isn't exactly new looking. So, instead of cleaning it just for pictures, I took photos of the one I bought for my dad (also the 18-inch model).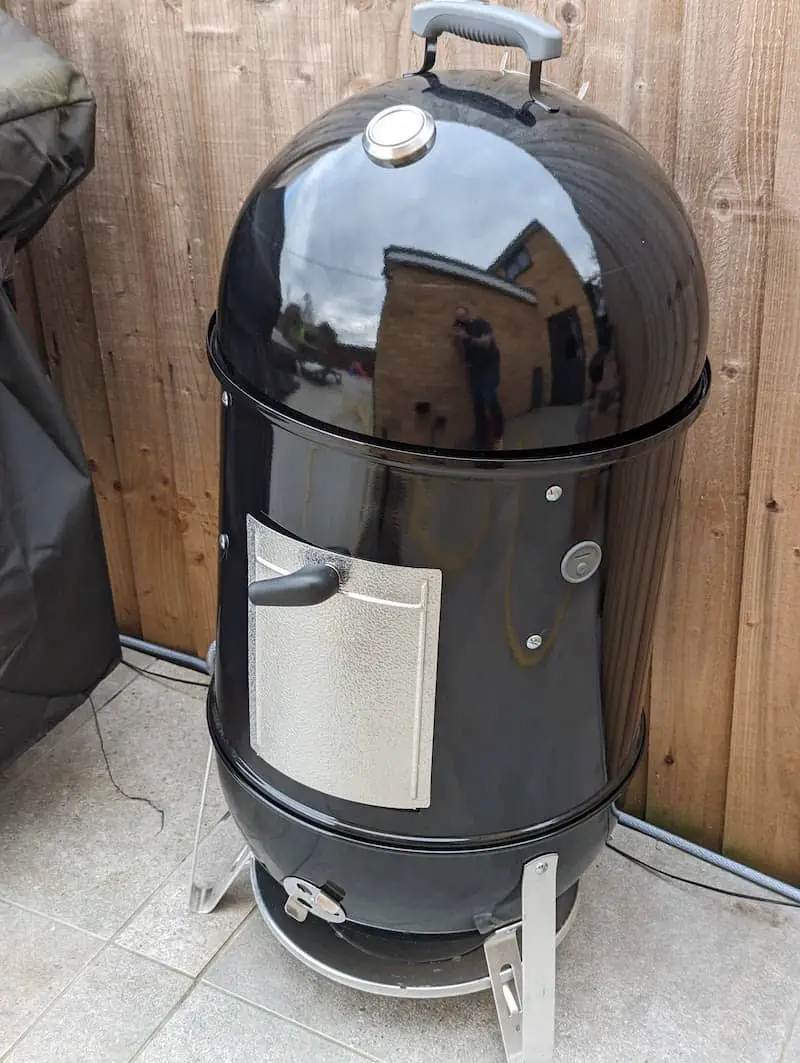 I've cooked many different meats on my Weber, from brisket to ribs to pork shoulder. So, as long as the meat you're smoking fits within the width of the smoker, you can cook it.
Since this Weber uses charcoal, you won't have to haul around heavy propane tanks or set up near an electrical outlet (it doesn't have any electrical components).
Of course, you'll have to ensure you have enough charcoal briquettes. To help you gauge how much you'll need, I fill the charcoal ring about halfway up, which is enough to last about 8 hours.
A door on the front allows you to add more charcoal or wood chunks during your cook. This feature is handy for longer cooking sessions, enabling you to maintain a consistent temperature.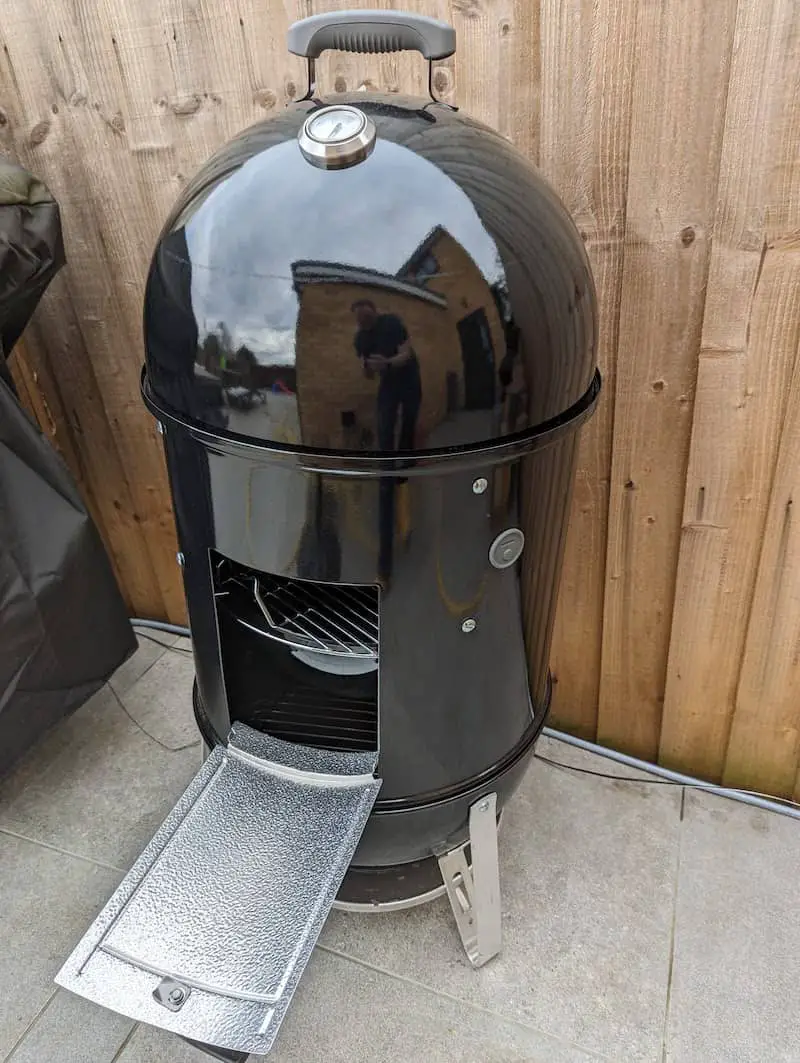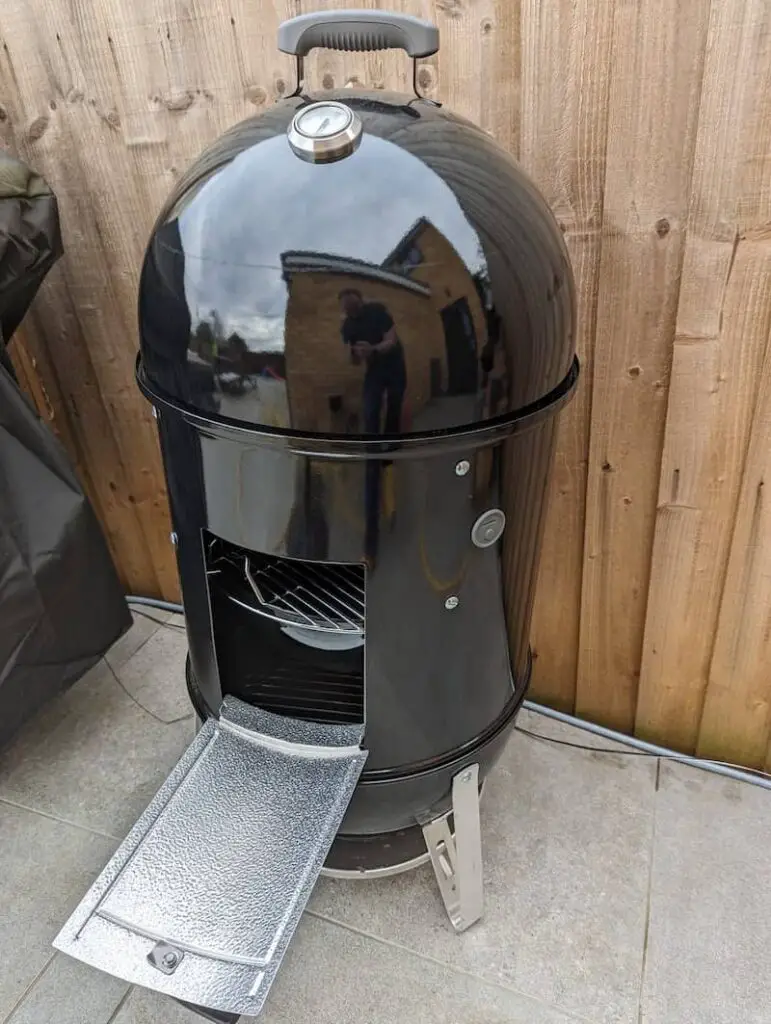 There's a built-in thermometer on the top, but it's not very accurate (like all smokers).
As a result, I recommend purchasing a separate meat thermometer whenever using a smoker, whether it's this one or any other.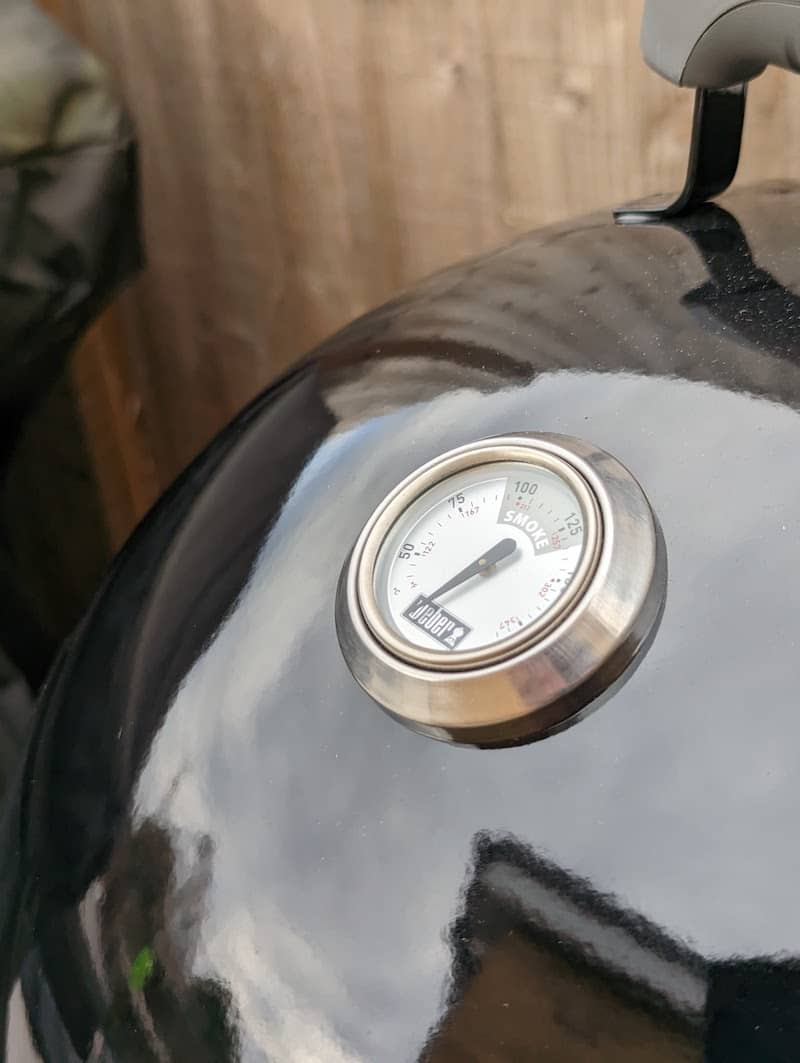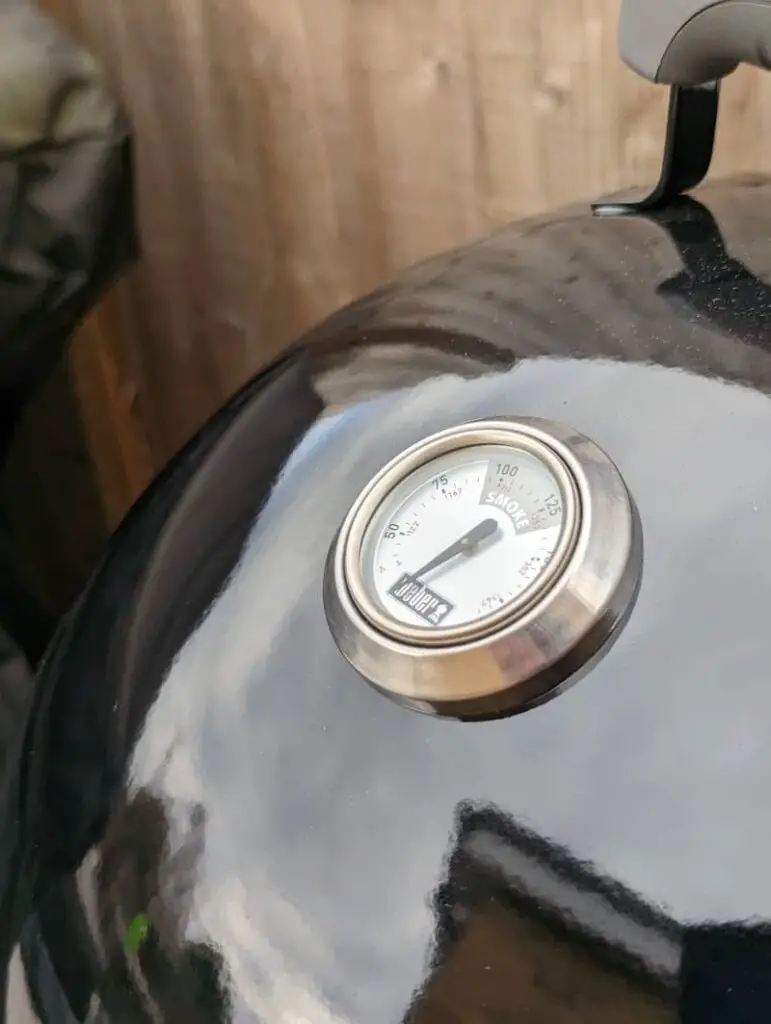 This particular Weber model also comes with a heavy-duty cover to protect against outside elements like rain which cause rust over time.
I suggest using this cover whenever it's not in use, especially if you plan on storing it outside.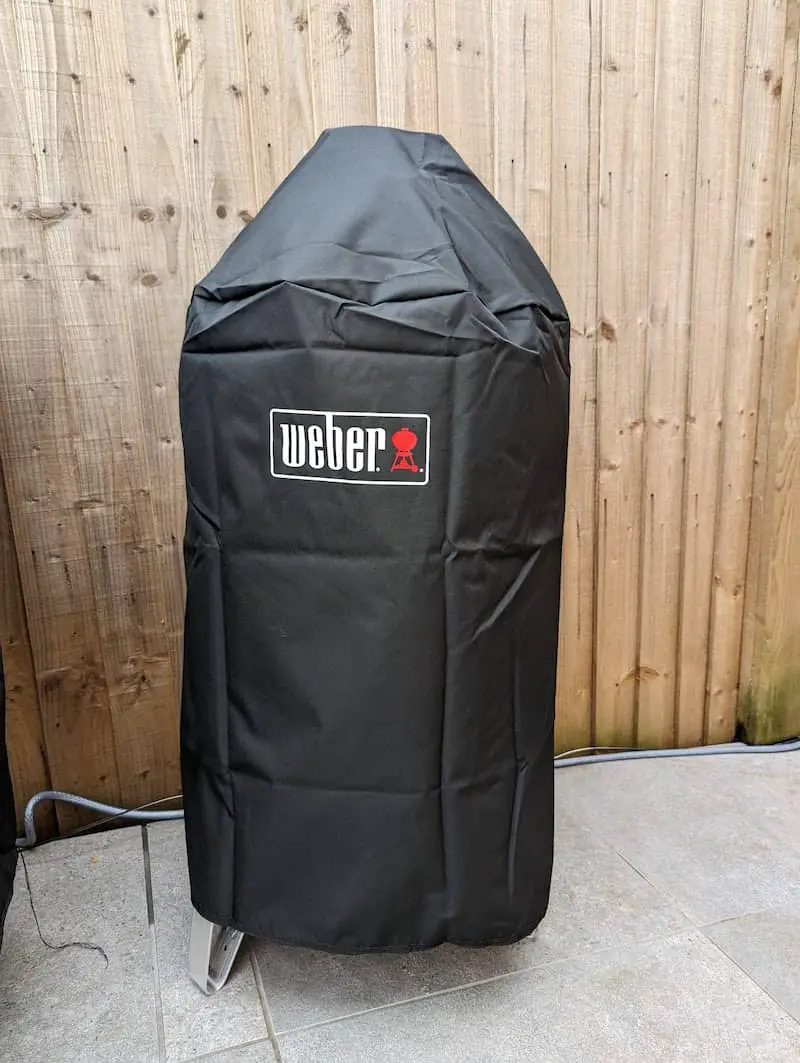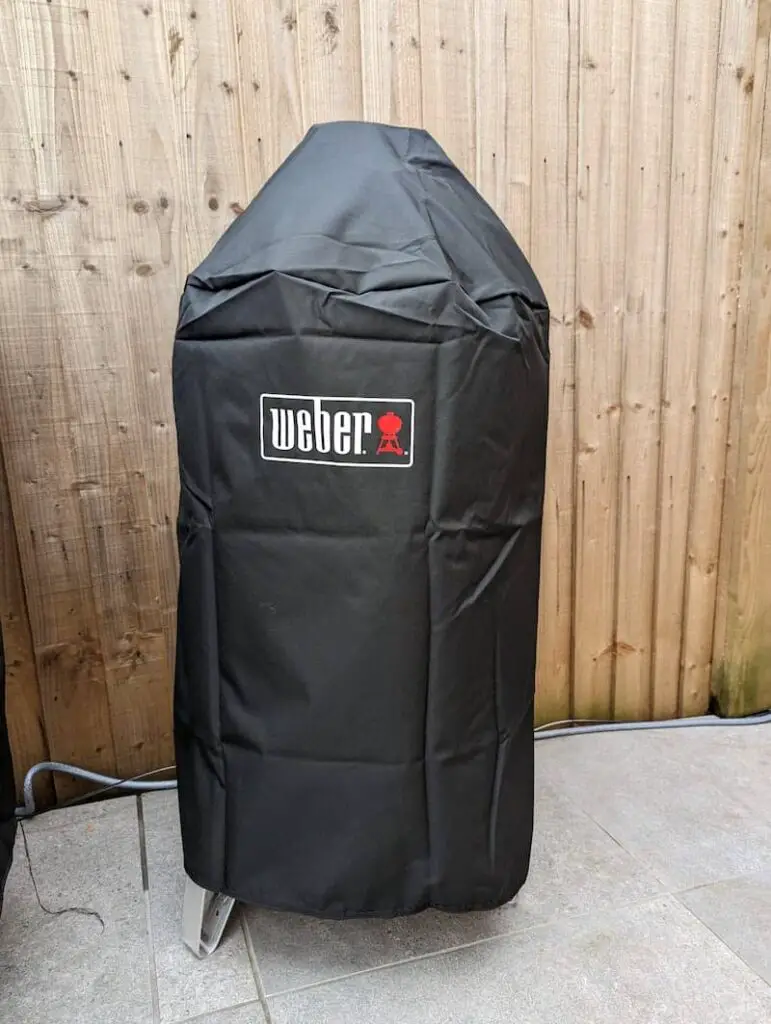 Although it would make sense for a portable smoker to have handles on the sides, this one doesn't.
Thankfully, I have not encountered that as a major setback since the unit is lightweight and can separate into three pieces. This separation feature makes it easy to fit into a vehicle.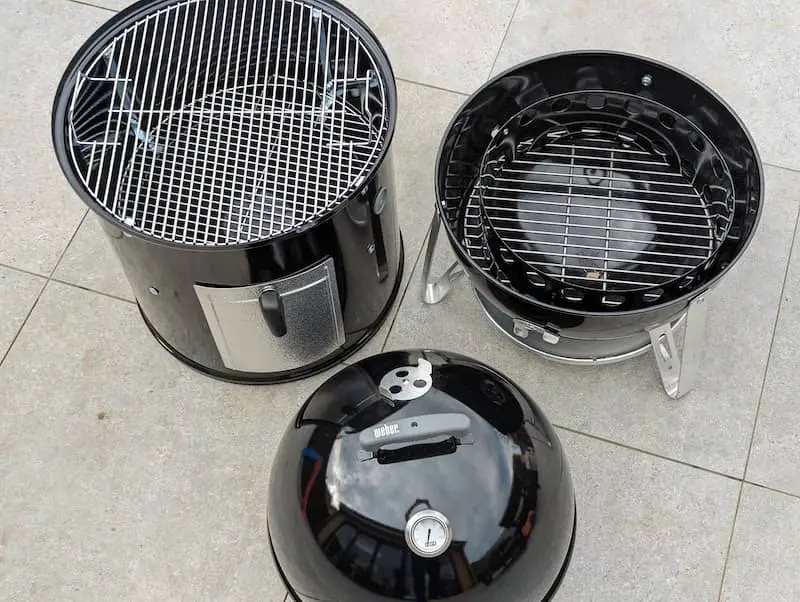 Overall, the Weber Smokey Mountain Cooker is excellent for beginners and experienced pitmasters alike. There's no doubt it's built to last. To date, I haven't experienced any issues with it.
2. Traeger Tailgater
If you love the style of the traditional pellet grill but want a smaller (and more portable) version, the Traeger Tailgater is a solid choice.
Best Portable Pellet Grill
Traeger Tailgater 20 Wood Pellet Grill and Smoker
Weight: 62 lbs | Fuel: Pellet | Dimensions: 37" L, 18" W, 36" H
The Traeger Tailgater has a large cooking capacity considering its size, and a digital controller allowing you to adjust the temperature in 15° increments. However, remember that you'll need access to an electrical outlet to power this device.
Pros:
Handles on both sides for carrying

Durable and sturdy design

Removable parts are easy to clean
Cons:
Folding legs are burdensome
Check Latest Price
When I first unboxed the Traeger Tailgater, it was much smaller than I anticipated. This model mimics the design of Traeger's traditional pellet smokers, just much more scaled down.
That said, it holds up in terms of cooking performance. It maintains a steady temperature, which you can easily adjust by pressing the buttons on the digital controller.
Although the unit appears small, I smoked two whole chickens simultaneously without issue. It took about 4 hours at 225°F, and they turned out excellent.
Interior parts such as the deflector plate, grill grates, and drip pan are easily removable, making them easy to clean and maintain.
My biggest complaint is the legs. They're challenging to deploy and put back in.
Additionally, the legs are pretty short, so I couldn't use them while operating the smoker. In fact, I removed them as they're more of a burden.
This pellet grill becomes much more practical with the legs removed (or folded up). You can place it on your truck's tailgate, making it perfect for a tailgate party (hence the product's name).
The vent's positioning is also impractical sometimes since they're slots at the top of the lid. So, if it rains, water can enter easily. However, the vents aren't a concern if the weather is nice.
Like almost all pellet grills I've used, you'll need the instruction manual nearby when learning to master the unit because the control panel buttons are ambiguous.
In short, I've ranked the Traeger Tailgater as the best portable pellet grill. Its large cooking capacity and ease of use are impressive for such a small unit.
3. Traeger Ranger
The Traeger Ranger is a smaller version of the Tailgater mentioned above. Still, it works just like a standard pellet grill.
Most Compact Design
Traeger Ranger Wood Pellet Grill and Smoker
Weight: 54 lbs | Fuel: Pellet | Dimensions: 20" L, 21" W, 13" H
The Traeger Ranger is the winner for portability and convenience. Its compact design allows for effortless transport and setup. Just turn it on, add pellets, and appreciate the stress-free experience.
Pros:
Easy to carry and transport

Durable and sturdy build

Can be used as a grill or smoker

Digital control panel
Check Latest Price
I was excited to try the Ranger and see how it compared to its predecessor, the Scout. I've noticed that the Ranger isn't prone to the drastic temperature swings the Scout had. I'm glad to see they fixed this!
Another improvement with the Ranger is its hopper capacity, which now holds the same amount of pellets as the Tailgater (8 lbs).
The Scout had a notoriously small hopper capacity, which made it annoying to smoke for extended periods as you'd have to refill it frequently.
It also has a digital controller (identical to the Tailgater), so you'll need an electrical outlet nearby to power this pellet grill.
Although I've used a Duracell power generator (battery operated) to keep the Ranger going for an entire cooking session, and it worked great.
The Traeger Ranger weighs 54 pounds, which isn't the lightest option on this list. However, transporting it is nearly effortless with the latches to keep the lid closed and the compact design.
The cooking capacity of the Ranger is small, with only 176 square inches of cooking space. This means that you're limited in what you can cook.
Still, it has some depth, so I could fit a pork shoulder inside and close the lid. Although, it probably wouldn't fit anything taller.
Lastly, the pellet hopper is housed inside the unit, making it more compact. Although, this design inherently decreases the cooking space.
In a future iteration, it would be neat to see if Traeger could house the hopper inside the unit for transport but make it removable and attach it to the outside while you're cooking.
All in all, the Traeger Ranger is perfect if you value compactness over cooking capacity. For example, if you have an RV, you can store it in a cupboard and always have it with you.
4. Ninja Woodfire Outdoor Grill and Smoker
Although Ninja may not be the first brand that comes to mind when you think of barbecuing, they've made an outstanding mini portable smoker that also functions as a grill, air fryer, and more.
Best Portable Electric Smoker
Ninja OG701 Woodfire Outdoor Grill & Smoker
Weight: 30.62 lbs | Fuel: Electric | Dimensions: 23.62" L, 18.58" W, 13.31" H
This Ninja allows you to easily switch between smoking, grilling, and more. Its user-friendly design ensures a successful smoking experience, even if it's your first time. Plus, its lightweight build makes it ideal for outdoor events.
Pros:
Works as a grill or smoker

Easily switch between modes

Simple to operate

Consistent cooking temperature
Cons:
Limited cooking space

Short electrical cord
Check Latest Price
The Ninja smoker is extremely user-friendly, requiring no prior experience or learning curve. Even if you're a novice to smoking meat, you can easily produce a mouth-watering meal on your first attempt.
Hands down, this is the most straightforward smoker I've ever used. And it comes pre-assembled. You only need to put the side handles on.
It's easy to move around and store thanks to the compact design, so it's great to take camping or on road trips.
Still, despite its small size, this Ninja is incredibly versatile. You can smoke, bake, air fry, roast, and dehydrate your food.
Since it's electric, there's no need to worry about carrying around propane tanks or bags of charcoal. However, you need access to an electrical outlet to operate it.
The controls are on the front of the device, and you can easily adjust the temperature by pressing a button. Additionally, the switch on the front panel allows you to change cooking modes.
Once switched to the smoking setting, the device ignites the wood pellet burner and typically takes 3 minutes to produce smoke. The lid has a tight seal, preventing smoke from escaping.
The cord is relatively short, measuring only 2.5 feet, so you'll likely need an extension cord to reach a power outlet.
Additionally, keep in mind that this smoker has a relatively small cooking surface of 141 square inches. While I could smoke a rack of ribs, it wouldn't fit a larger cut of meat such as brisket.
Overall, the Ninja Woodfire Outdoor Grill and Smoker is versatile and durable and lets you control the cooking process precisely. It's an excellent choice if you're okay with the small cooking area.
5. Masterbuilt Patio-2-Portable Smoker
If you're looking for a smoker that imparts a more authentic barbecue taste than an electric smoker, you should consider one fuelled by propane. In that case, this Masterbuilt model is an excellent choice.
Best Portable Gas Smoker
Masterbuilt Patio-2-Portable Propane Smoker
Weight: 22.2 lbs | Fuel: Propane | Dimensions: 15.91" L, 23.62" W, 23.15" H
Crafted with stainless steel, this durable Masterbuilt smoker has a 5,000 BTU burner fueled by a 1 lb. propane cylinder (or a 20lb. tank, but the adapter is sold separately). Despite its compact design, there's ample cooking space.
Pros:
More durable than it looks

Legs fold up easily

Handles on both sides
Cons:
Must be shielded from heavy wind
Check Latest Price
As evidenced by its name, this smoker is designed with portability at the forefront. The handles on both sides make it easy to carry, and the legs fold up neatly for storage.
Initially, I had doubts about the sturdiness of this unit. However, although it's not as durable as other options, such as the Weber, it's better constructed than it appears.
Since this smoker runs on propane, you don't need access to electricity, which gives you a lot more flexibility in where you can use it.
The default valve is intended for a 1-pound propane tank (the small camping ones), but you can purchase an attachment to use the standard-size propane tanks.
In terms of performance, I found that this smoker did a great job producing and retaining smoke, and the vents were easily adjustable at the top backside. You control the propane with the regulator on the hose.
The only downside I found was that on very windy days, I had to wrap tin foil around the lower half of the smoker to prevent the wind from blowing out the flame.
In summary, this Masterbuilt Patio-2-Portable Propane Smoker is reasonably durable, very light, and performs well, considering its low price.
6. Oklahoma Joe's Rambler
There's something undeniably impressive about the traditional style of the Oklahoma Joe's Rambler. It turns heads wherever you take it, whether RVing or at an outdoor event like a race or tailgate.
Also Great
Oklahoma Joe's Rambler Portable Charcoal Grill
Weight: 48.5 lbs | Fuel: Charcoal | Dimensions: 19.5" L, 26.8" W, 21.8" H
Constructed from durable steel, the Oklahoma Joe's Rambler has an authentic smoker appearance that's sturdy and practical. Additionally, it's user-friendly and simple to clean.
Pros:
Has handles on both sides

Durable and sturdy design

Doesn't require electricity

Works as a smoker or a grill
Cons:
Smoke can leak from underneath lid
Check Latest Price
When I first saw the box, I assumed this unit would weigh at least 100 lbs. Yet, it weighs under 50 lbs, which is surprising considering its durability.
It fits comfortably into my SUV, leaving plenty of space for other gear. However, it could easily fit into the trunk of a small car.
This Rambler is also quite versatile for a charcoal smoker. You can adjust the height of the charcoal tray to accommodate whatever you're cooking.
For example, to use it as a smoker put a small amount of charcoal on the side opposite your food and add one fist-size chunk of wood to create smoke.
I was able to smoke two racks of ribs in 4 hours. However, if you're smoking longer, you'll need to add charcoal a few times.
One issue with the Rambler is that smoke can leak from underneath the lid. This flaw occurs because the lid doesn't have a tight seal.
Although this issue is prevalent in many charcoal smokers, it's more noticeable in this one because the space is smaller, affecting the temperature more.
While not necessarily a downside, it's important to note that the charcoal tray hooks can get quite hot during use, making it crucial to wear mitts when touching them.
This is especially important to remember since the positioning of the hooks can make it easy to forget to wear mitts (speaking from experience here!).
In short, the Oklahoma Joe's Rambler is an eye-catching portable smoker grill combo with sturdy steel construction built to last. Yet, it weighs under 50 lbs, making it manageable to carry.
7. Char-Broil Analog Electric Smoker
If you want a portable electric smoker but need more cooking space than the Ninja, you may want to consider this alternative.
Also Great
Char-Broil Analog Electric Smoker
Weight: 49.5 lbs | Fuel: Electric | Dimensions: 15" L, 20.7" W, 33.5" H
This Char-Broil has convenient carrying handles and a lightweight design that make it portable. While it could use some improvements in durability, the affordable price point makes it a fair value.
Pros:
Strong latches on the door

Easy to operate and clean

544 sq in of cooking space
Cons:
Maximum cooking temp of 275°F

Less durable than others on this list
Check Latest Price
Most electric smokers aren't designed to be portable. However, this one weighs just under 50 lbs and has handles on the sides for carrying.
This Char-Broil differs from many other electric models because it doesn't have a digital display screen. Instead, the temperature controller is on the piece that plugs into the side of the unit.
The analog system makes this smoker an ideal choice if you plan to take it on the road or to an outdoor event because fewer components can potentially malfunction.
For example, there aren't delicate buttons you must worry about while packing or transporting it.
That said, there's a sister model with a digital screen, but it doesn't have handles on the side.
Another benefit that I like about this smoker is the dual latches. They feel sturdy and tightly hold the front door closed so smoke doesn't leak out.
The cooking capacity isn't anything to look down on, either. It has 544 square inches of space on three cooking grates. Additionally, you can adjust the grates' height for various meat sizes.
The first drawback is that it only reaches a maximum temperature of 275°F. That's appropriate for smoking most meats, but you can't sear as you would with a pellet or charcoal smoker.
Second, it feels slightly less durable than other models on this list. So I would avoid this one if you want to make a long-term investment.
All in all, the Char-Broil Analog Electric Smoker is a good entry-level option for beginners. And, although it's less durable than other options on this list, it still offers acceptable value considering the low price.
What to Consider Before Purchasing a Portable Smoker
Finding the best portable smoker for your needs depends on several factors. Let's look at these considerations in more detail.
What Fuel Type Do You Prefer?
The fuel source is one of the most important features of a smoker. It impacts the cook time, temperature range, ease of use, and flavor.
Charcoal
A traditional charcoal smoker can often provide the best value since they have fewer parts and more durable construction than other types. As a result, they typically last longer.
Since electricity isn't needed, they're often less expensive and suitable for use almost anywhere.
They can also reach very high temperatures. However, it's more difficult to control the temperature than with an electric or propane smoker.
For example, you need to manually adjust the air dampers to adjust the temperature.
Note: Operating a charcoal smoker requires a slight learning curve since you'll need to learn how to light and align the briquettes for effective smoke.
Charcoal smokers are worth it despite a few extra steps for cleanup and maintenance because they produce a BBQ flavor that's hard to replicate when using a gas smoker or electric smoker.
Wood Pellets
Pellet smokers rely on wood pellets for fuel instead of charcoal. An auger automatically feeds pellets from a hopper to a box on the bottom of the smoker. Of course, this requires electricity.
The built-in controller regulates the feed rate based on the temperature that you set. 
Thanks to the electric components, pellet smokers are easier to control than charcoal smokers. And they're next best in terms of the taste they produce.
However, these components also add to the smoker's cost. Additionally, they may also weigh more and take up more space than a charcoal smoker with the same cooking capacity.
Propane
A gas smoker offers greater temperature control than pellet and charcoal smokers. You can adjust the knob to change the temperature.
As you turn up the temperature, the propane burner increases the size of its flame as more gas is introduced.
Some models use a small 1-pound propane tank, while others rely on full-size tanks. Either way, remember to keep extra propane on hand, so you don't run out before you're done cooking.
Gas smokers are great if you're camping because they don't require electrical hookups, and propane is often sold at gas stations or convince stores.
Electric
An electric smoker is one of the simplest options if you can access electricity.
After you plug the unit into an electrical outlet, you can turn it on and set the temperature. Then, a coil inside heats up to burn the wood chips, creating smoke.
However, electric smokers also have more parts, meaning more can go wrong. For example, they can experience malfunctions, such as faulty heating elements and electric components.
Despite a few drawbacks, an electric smoker is easy to use and clean up. They're also great if you don't want to deal with messy charcoal or heavy propane tanks.
How Much Cooking Space Do You Need?
The cooking capacity of the smoker is measured in square inches. It refers to the overall surface area of the cooking grates.
You can also use the size of the grill grate to estimate the cooking area if the manufacturer does not supply this detail.
For example, a smoker with a 14-inch circular grill grate has a cooking capacity of about 154 square inches. A 15×10-inch smoker would have a total of about 150 square inches.
These smaller smokers can cook multiple servings of smoked meats. Still, you may need a larger smoker (18 or 20 inches) for a full-sized turkey or brisket.
Some designs include multiple levels, which is ideal if you want to smoke several items simultaneously.
Do You Need a Smoker That's Beginner-Friendly?
If you want the most straightforward option, consider getting an electric smoker like the Ninja Woodfire Outdoor Grill and Smoker. You can plug it into an outlet, turn it on, and set the temperature with a dial.
The manual controls on propane and electric smokers typically include an on/off switch and a temperature range.
Charcoal smokers don't typically include any controls but may come with a temperature gauge. Pellet smokers have an electric pellet igniter, making it easier to light the pellets.
Along with manual controls, some propane and electric smokers allow you to view and adjust the temperature using Wi-Fi, Bluetooth, or a handheld remote.
Is the Smoker Light and Can It Fit in Your Vehicle?
The weight, size, and shape of the smoker impact its portability. For example, some smokers only weigh about 20 pounds, while others weigh 60 pounds or more.
Pro Tip: You should also check the dimensions (assembled) of the smoker if you intend to transport it in your vehicle.
Some options include folding legs to help take up less space. In contrast, others, like the Weber Smokey Mountain, can easily be separated into pieces for transport.
Many designs also include two or four wheels. While wheels can make moving a smoker easier on pavement, remember that small wheels don't roll well on grass.
Is the Smoker Durable?
There are two main characteristics of a durable smoker. How it's assembled and the material.
The type of material used on the exterior of the smoker is important, as some materials are more prone to rusting and damage. Common choices for the exterior include:
Stainless steel
Cast iron
Ceramic
Aluminum
Out of these materials, stainless steel and aluminum are the most common, as they are lightweight and affordable. 
If you plan to leave your smoker outdoors, consider purchasing a cover. No matter the material, the exterior will likely include bolts and pieces that may rust when exposed to moisture.
Stainless Steel
Stainless steel is sturdy but not always easy to clean. In addition, it has poor nonstick properties, which makes it more challenging to scrub food debris from the surface.
You may accidentally scratch the exterior if you use an abrasive cleaner or scouring pad. However, it's more durable compared to aluminum.
Cast Iron
Cast iron is the most durable material for a smoker. It heats slowly but retains the heat longer. Cast iron smokers also tend to heat more evenly.
The main drawback is the weight of the cast iron, as these smokers tend to weigh significantly more compared to other options. 
Ceramic 
Ceramic is the easiest material to clean and least likely to scratch compared to stainless steel and aluminum.
It also weighs less than cast iron. However, ceramic can crack if dropped or hit with a heavy object.
Aluminum
Aluminum is lightweight and rust-free. It also conducts heat very efficiently. However, it is also more prone to dents and dings compared to the other materials.
Aluminum is the least durable option but also less expensive. 
Consider a Smoker Grill Combo if You Need a Grill Feature Too
While many smokers only smoke food, some models offer grilling capabilities too. The added advantage of a smoker-grill combo is you can smoke meat like steak and finish it off with a sear on the grill.
Typically, smoker-grill combos are charcoal or pellet grills, as electric ones often fall short of the required grilling temperature.
However, the Ninja Woodfire Outdoor Grill and Smoker stands out as one of the few portable electric smokers that can also grill.
Similarly, you can use the Weber Smokey Mountain charcoal cooker as a grill by placing the food on the bottom grate directly above the charcoal.
Although, if you don't plan on using the grilling feature or if you have a standalone grill, you won't need this option.
What's Your Budget?
The average price of a reliable smoker is about $200 to $600. Charcoal smokers are often the most affordable, as they don't include any electric components. 
Along with the fuel source, the size of the smoker is one of the main details that influence the cost. A larger smoker tends to cost more.
Cast iron and ceramic-coated smokers are likely to have a higher price tag compared to stainless steel and aluminum smokers. 
Frequently Asked Questions
Still have a few questions about portable smokers? I've answered the most common ones in the FAQ below.
What Is the Best Portable Smoker?
The best portable smoker is the Weber Smokey Mountain Cooker because it's lightweight, easy to carry, simple to use, and uses charcoal to take it anywhere.
How Much Should I Pay for a Smoker?
A reliable portable smoker will cost between $200 to $600. Above that price, there's a diminishing rate of return.
Do You Have to Plug In a Pellet Grill?
You must plug in a pellet grill because it requires electricity to power the auger, which moves wood pellets to the fire pot.
Final Thoughts
When looking for a portable smoker that fits your needs, you must consider the size, weight, fuel type, and factors that affect the overall portability, like shape and design.
I've ranked the Weber Smokey Mountain as the best portable smoker because of its large cooking capacity, durable build, and beginner-friendly configuration.
Top Pick
Weber 18-inch Smokey Mountain Cooker
Weight: 39.1 lbs | Fuel: Charcoal | Dimensions: 21" L, 19" W, 41" H
The Weber Smokey Mountain is the most user-friendly charcoal smoker I've ever tried. It has a conveniently accessible fuel door, easily adjustable vents, and an impressive resilient construction that ensures hassle-free smoking.
Pros:
Durable and sturdy design

Has 2 cooking grates

Lightweight and easy to carry

Simple to operate and clean
Check Latest Price
Matt Hollingshead
is the founder of Grill Mentor, a site with everything you need to know about grilling and barbecuing, from tips and techniques to recipes and more.
Get Helpful BBQ Tips Delivered to Your Inbox Every Monday
You'll receive updates from us. No spam, ever. Unsubscribe anytime.